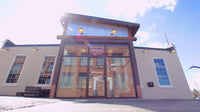 Great food, great drinks, and great conversation
We are a product of a father and son team. George, the father, was raised in restaurants his whole life, and is a certified baking and pastry chef from the Baltimore Culinary Institute. Prior to opening Mason Dixon Distillery with his son, Yianni, George owned and operated a 50's style diner, steakhouse, and seafood restaurant in Lancaster County, Pa.
Yianni, the son, built his first still from a sketch his grandfather made him at age 11. After almost burning the house down while he was making moonshine in the garage Yianni was forced to practice his distilling outside. An apprenticeship in West Virginia brought his real world production knowledge up to speed.
Together, George and Yianni spent a year and a half securing the proper licenses and meticulously restoring the 100 year old factory that our distillery is housed in today. Outside the building is non descript, matching the other factory buildings around them. Inside you will find beautifully restored brick walls and original wood beams. The seating arraignment is inspired by German Beer halls, and the gentle roar of conversation fills the room during dinner.
The liquor is all made on site from scratch using on local ingredients when possible. The food selection is comfort food from around the world, usually simple dishes prepared to an exacting standard. Our kitchen sources many of our ingredients locally when we can. We even keep a large garden out back.
Being modeled after a German Beer hall you will not find TV's in our dining room. We just ask that you bring some good conversation to the table and we'll follow it up with great food and drinks.
Award Winning Spirits

Made on Site from Scratch