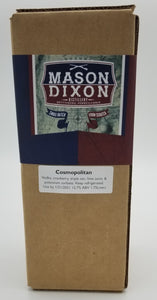 With our 1.75L boxtails we do all the work for you so all you do is pour yourself a glass and enjoy, its a mini vacation in every box. 
Our Cosmopolitan is made with MDD Vodka, fresh squeezed lime juice, cranberry juice, and triple sec. This is our least sweet boxtail currently available. 
Each box has just shy of 5 pounds of cocktail in it. You will love our Cosmo
Also available as a 3 pack!